Single Sided FLUVIAL banner

please select your banner from the options below

---

dims and materials

cyanotype sun print original artwork on
100% cotton ripstop fabric
steel grommets
approx 54" x 66"

---
notes

︎︎︎ handmade by women artists
︎︎︎ thanks for supporting a small buisness! because I'm a small one woman shop, all sales are final.
---
Available Banners

︎ 35B
"My great great grandmother, Minnie Greywolf Littlebear, when she got married they arranged it and she moved in with my great great grandfather. When she was young she was kidnapped and went to a boarding school in Decorah… cultural genocide. She ended up escaping and she ended up back home but she had been abused, they had cut her hair, wouldn't let her speak that language, that kind of thing. She's the one who gave me my indian name. And she never spoke another word of english after she left the boarding school."
︎41B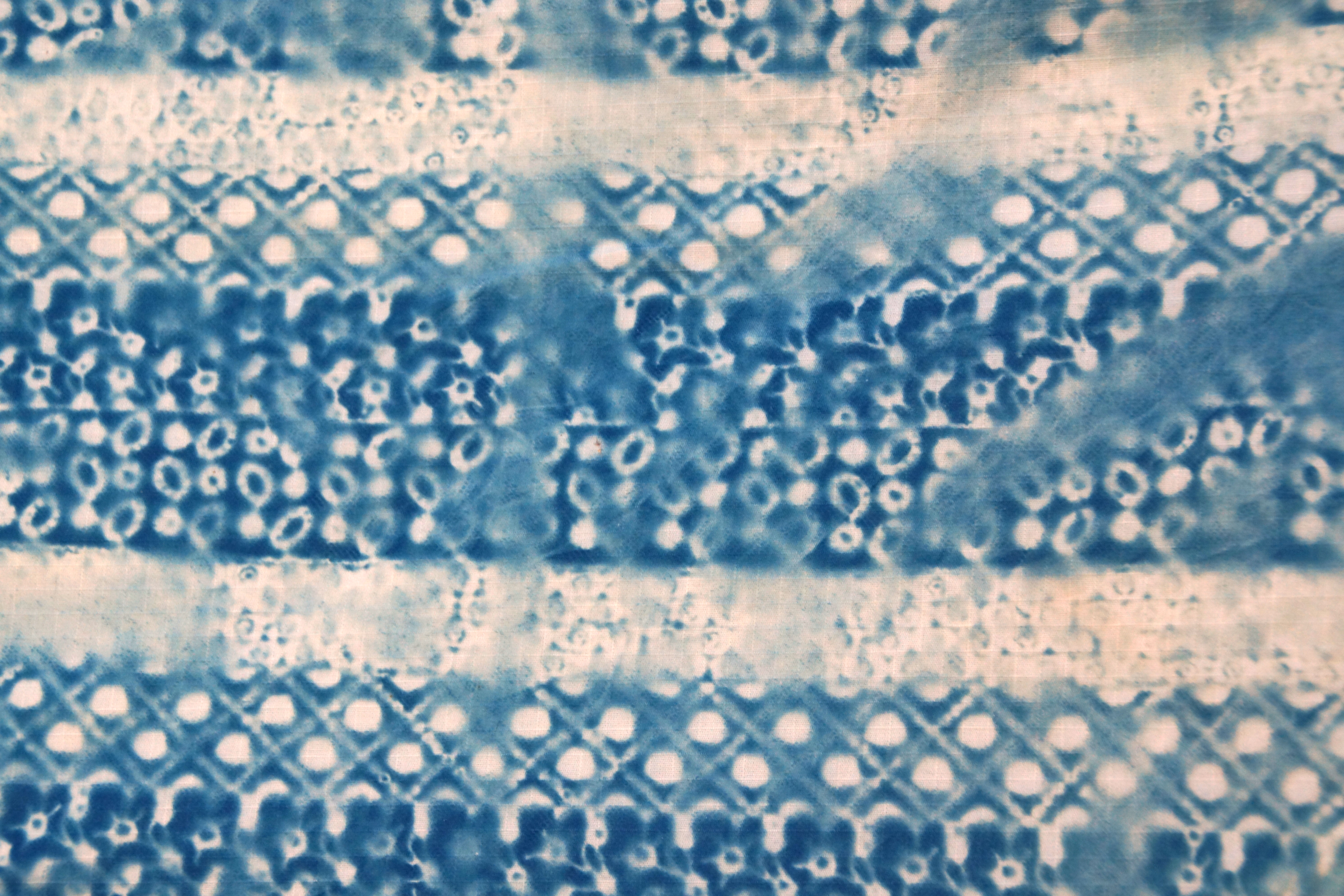 "Every year on the anniversary of their death we meet for an all-night prayer service for four years after."
︎58B
"Handmade soap was made from tal and lye."
---
about
This product is a truly one-of-a kind art object, handmade with fabric banners from a public artwork, "FLUIVAL". As part of the 2020
Farm/Art DTour
, artists
Emilie Bouvier
,
Crysten Nesseth
and
Sheila Novak
created, "FLUVIAL," a stream of blue banners weaving along Honey Creek in the Driftless Region of Southwest Wisconsin. Each banner is a handmade artwork, and completely unique.
As the public artwork has been taken down, the artists have worked to allow the meaning and texture of the artwork to continue to touch the lives of many. Through sales of the original banners as well as smaller products for home, we seek to create a unique experience and
Each product is carefully made by examining the fabric for the best use, and in cutting down the original banners accordingly. From couch cushions to smaller banners more appropriate for interior space, the products are unique works of art, just as the original banners are. No two are the same, and as art objects the products are created as a limited edition, ensuring the unique relationship to the artwork.
Looking at the white imprints on the blue cloth, you may see grasses, flowers, handwriting, or other forms created by the shadow of objects from farm life. You may witness a moment of time and land, captured on fabric. And as part of your life and home, you may consider the land, and the water, and how these resources hold deep meaning, and how we can capture and share that story.
---