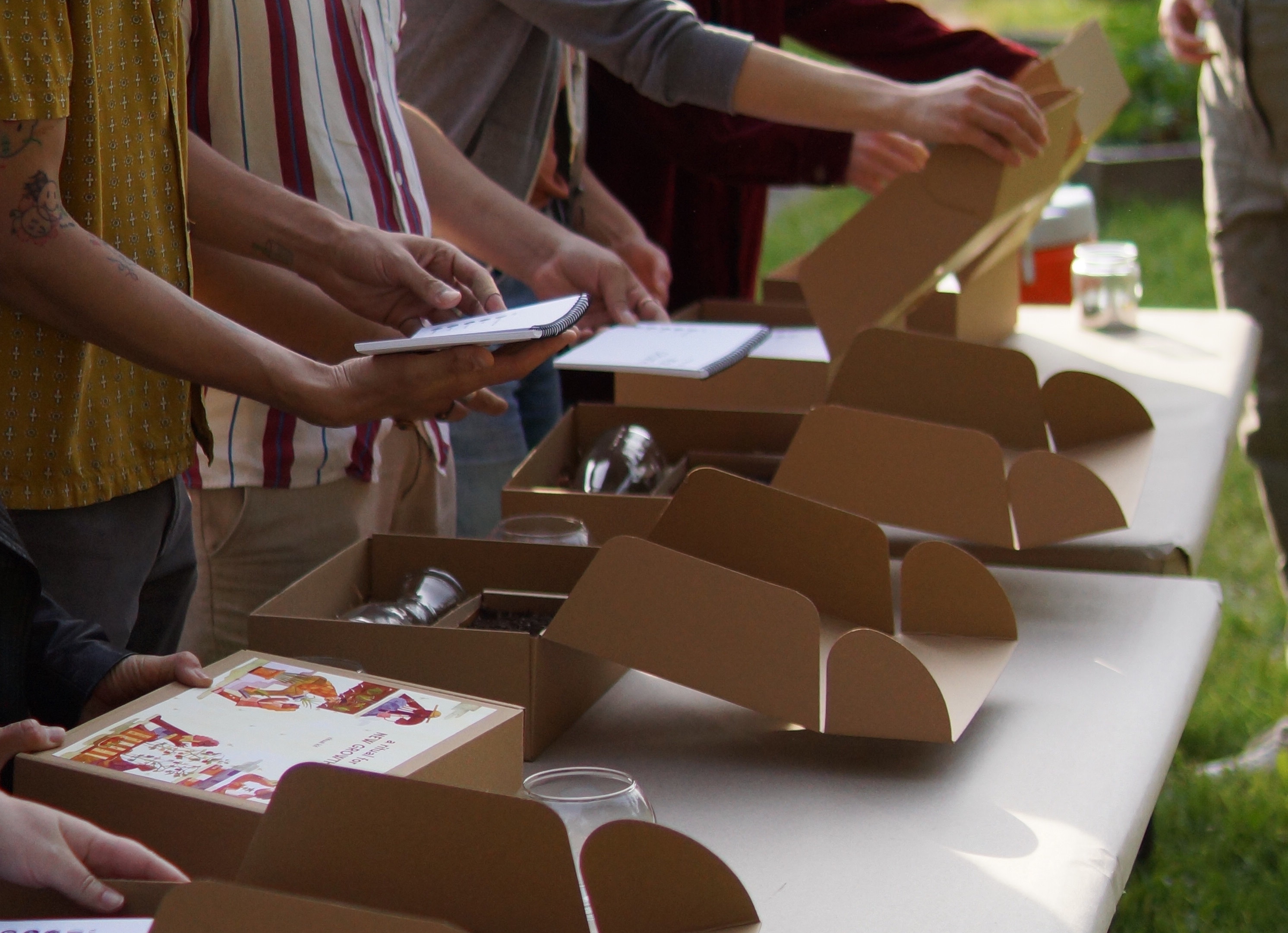 a ritual for
NEW GROWTH

2022
Grow a pollinator garden in Boston while exploring personal, spiritual, and collective growth with others. Over two weeks, participants will engage in a daily sprout- and spirit-watering ritual, gathering together twice to share reflections.

Read the ritual booklet here.





This project grew from the lessons from my project CoVictory Gardens. I developed CoVictory Gardens in April 2020 as a balm amidst the anxiety and isolation of the pandemic. I continue to be grateful for how it blossomed, such as my summer Residency at the Urbano Project. Yet, I found that despite starting the project to create connection with others and the natural world, I spent a LOT of time on screens, in a space that I started the project to get away from!

I wanted to create growth and spiritual and ecological nourishment for my human and more-than-human community. This drive pushed me to develop A Score for New Growth in 2021, a project created in collaboration with artists Alex Mastny and Juliette Walker for the non-traditional exhibition space, The Cake Stand. The performance score tracks the transformation of a seed, from dormancy through germination to growth, linking processes of personal, collective and ecological growth from internal and unseen to external and visible transformation. These are the roots for A Ritual for New Growth.

Over two weeks, participants of a A Ritual for New Growth will engage in a daily sprout- and spirit-watering ritual, gathering together twice to share reflections. Through collective action, we will all ground in our own growth while also collectively sprouting and nurturing the seeds for a pollinator garden at the public library.

This project is intentionally designed to integrate into larger celestial movements and patterns. The project starts at the new moon and ends at the full moon, following a trajectory from darkness to light, from questioning to realization, from searching to discovery. The project connects these powerful energies with trajectories of ecological and personal growth. Plus, many plants are rumored to have greater success in growth when planted in line with lunation patterns!

This cycle is especially important in June. Starting with a new moon in Gemini, we encounter a uniquely auspicious time to plant seeds, real and metaphorical. Grounded in exploration, this is an ideal time to start something with room for discovery. The project culminates with a full moon in Sagittarius, a time of ripening thoughts, ideas and experiences. This full moon encourages us to broaden our viewpoints. Additionally, Gemini and Sagittarius are sister signs, occupying opposite energies and a balance in perspectives. As we move from inward reflection to outward, collective energies, the moon will carry us through.



---
This project is supported by a Transformative Public Art grant from the City of Boston Mayor's Office of Arts and Culture.